We would always love to travel by train more than other modes of transport, As it is found to be very comfortable, cost effective, most reliable and safest form of transportation in India.
Everyday lots and lots of people travel to their destination by using the trains. This plays a major role in our mode of transportation.
We could see that during festival times many people travel from one region to other for celebrating the festivals or to get associated with their families and to spend their holidays happily. To make this journey safe and happy there are some train travel guidelines to be followed.
People will begin booking their tickets online or offline as we get closer to our festivals, such as Diwali, Christmas, and others, and I believe this is the greatest time to give some train travel guidelines during festival periods. Because most individuals will find it difficult to travel at these periods.
List of guidelines for travelling in Trains
Here I have shared some of the essential guidelines for travelling in trains
Pre-plan and pack essential things
Check for train availability
Prior booking of trains
Follow Covid Regulations
Pre-plan and pack essential things
Plan yourself prior to your travelling date about what you need to carry for your journey. If you plan to travel by train during the event, don't forget to pack toiletries, medicine, a mask, sanitizers, a power bank, earplugs, slippers, and a night costume. Before you relax, make sure you put on a mask and clean your seat. Carry dried fruits, chocolates, and other snacks with you to munch on while having a good time with your friends or family.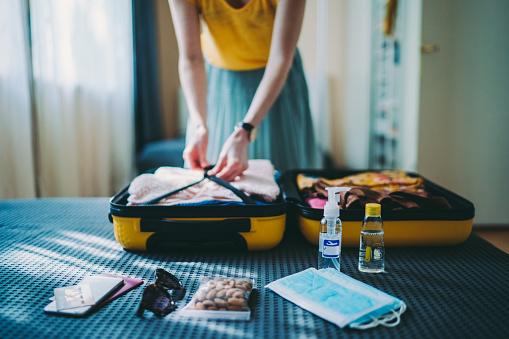 Do not have the habit of packing your things at the last minute of your journey date or time as it leads to lots and lots of confusion and who knows it might lead you to miss your most needed things in your place. So never have this habit of packing at the last minute.
Check Train Availability
As the festive season approaches, the Indian Railways has launched a series of new trains. Passengers would be able to use the special trains from October 10 to November 21 to satisfy the increased demand during festivals like as Durga Puja, Dusshera, Diwali, and Chhatt Puja.
Throughout the pre-Pandemic time, Indian Railways used to run roughly 5,000 special trains during the festival season to deal with the rush, but that has changed recently. India is still in the midst of the second wave, and the railway officials don't want to take any chances, so they've chosen to run more special trains, but at a considerably lower capacity.
Prior booking of trains
Since there are more Special trains during this season, always check for the availability and do book your rail tickets online through IRCTC or some other third party rail booking apps and platforms. Do have a copy of the booked rail tickets in your mobile and along with your friends or family who are travelling with you. Do carry your Id proof incase if a ticket checker asks for it.
Keep track of your train's current status, PNR information, Seat availability, Waitlisted Ticket, Train timetable, fare, and station information at all times.
If you're thinking of cancelling your train journey but aren't sure how, check out our article on how to cancel a train ticket.
Follow Covid Regulations
In a statement, the Railway Ministry announced that more special services on new lines will be introduced gradually. Travelers will be required to wear masks and undergo comprehensive screening before boarding the train, although asymptomatic passengers will be allowed to board.
Here is the list of Covid regulations to be followed while travelling during festival periods. Please do follow all the rules for better and safe journey in Indian Railways
Passengers having confirmed e-tickets will be allowed access to the railway station.
Depending on the confirmed e-ticket, both passenger movement and the driver of the vehicle ferrying passengers to and from the station will be granted admission.
Only uninfected people will be allowed to board the train after all passengers are inspected.
Passengers must arrive at the departure station at least 90 minutes prior to the train's departure time.
At all access and exit points, as well as on board the train, passengers will be handed hand sanitizers.
In the station and on the train, all passengers will be required to wear a face mask.
During train travel, social distance must be properly maintained.
The Railway Ministry will distribute health advisories and recommendations to railway employees and passengers through an IEC (Information, Education, and Communication) programme.
Train passengers are required to download the Aarogya Setu mobile app to their phones.
The cost structure will be the same as for the Rajdhani Express trains that run on a regular schedule. Reservations for these trains can be made via the IRCTC mobile app or the IRCTC website. For these unique trains, the maximum advance reservation period will be seven days. For these events, no RAC/Waiting list ticket bookings or TTE on-board bookings will be permitted.
General Luggage guidelines for travelling in Train
Each passenger is given a free allowance, up to which he can bring as much luggage as he wants inside the compartment. The free allowance varies depending on the type of travel. Children under the age of 12 are entitled to half of the free allotment, up to a maximum of 50 kg.
It can be difficult to travel with your family during festivals. When travelling by rail, directing your closed one as well as securing your bag and belongings become equally crucial. Don't forget to carefully lock your items to ensure a stress-free train travel. This type of Train Travel Advice will protect you from having your belongings or money stolen.
You can approach train conductors/coach attendants/guards or GRP escort in the event of luggage theft, robbery, or dacoits in running trains. They will offer you the FIR Forms, which you must complete and return to them. After that, the complaint will be forwarded to the police station for action. You do not have to stop your journey to file a police report. You can also seek assistance from RPF Assistance Posts located at key railway stations in filing your complaint.